Attractions of Urabandai: History
Urabandai highland is a resort where you can enjoy one of the most magnificent natural landscapes in Japan.
Urabandai is blessed with numerous scenic beauty places created by nature such as mystic lakes & ponds and limpid streams, in addition to attractive spots representing Urabandai, including Mt. Bandai, one of the 100 famous mountains in Japan, Lake Hibara and Goshikinuma Ponds.
Surrounded by a vast forest and a cluster of lakes and ponds, Urabandai with a variety of beauty is popular among Japanese people as a resort for relaxation and contact with nature.
"Mt. Bandai": Treasure-trove
Affluent lakes and ponds, limpid river flows, and mountains with lush greenery.
Kitashiobara Village is one of Japan's best resorts located in a highland region surrounded by beautiful nature, most of which is included in Bandai-Asahi National Park.
The core attractions of the resort are "Mt. Bandai," a treasure-trove, and "Urabandai."
In 1888, the north side of the top of Mt. Bandai partially collapsed including Shobandai due to a phreatic explosion.
A debris avalanche blocked rivers, creating hundreds of lakes and ponds. Particularly, dozens of these lakes and ponds, such as Lake Hibara, Lake Akimoto, Lake Onogawa and their adjacent ponds, are called "Goshikinuma Ponds."
In 2016, Goshikinuma Ponds were appraised as a one-star tourist resort by Michelin Green Guide Japon.
Mt. Bandai is blessed with numerous pleasures, including Goshikinuma Ponds where you can enjoy a variety of water colors from large lakes to small ponds, magnificent scenery visible here and there in the area, and hot springs.
Mt. Bandai was literally called "Mt. Iwahashi," which means "a rock ladder leading to the heaven."
The south side of Mt. Bandai is called Omotebandai while the north side Urabandai. The shape of the mountain seen from the south side is sculpturesque. To the contrary, it shows brutal traces of collapse of volcanic edifice when seen from the north side.
It was selected as one of Japan's top 100 geological features in 2007, and was authorized as a Japanese Geopark in 2011.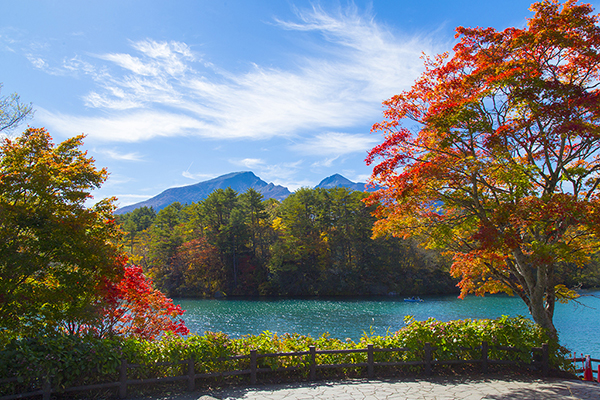 History of Urabandai
Urabandai is located at the foot of Mt. Bandai in northern Fukushima Prefecture (Kitashiobara Village) of the Tohoku region, at a height of 800 m above sea level.
On July 15, 1888, an enormous eruption of Mt. Bandai produced a spectacular crater wall on its north side called Urabandai. A debris avalanche occurring simultaneously blocked rivers, creating a cluster of lakes and ponds in Urabandai such as Lake Hibara and Goshikinuma Ponds.
It took about two years for Lake Hibara to grow into this largest lake in the area after the eruption.
Urabandai, which is blessed with beautiful views changing seasonally from tender green in spring, dark green in summer, red and yellow in autumn and silver in winter, was designated as Bandai-Asahi National Park in 1950.