Goshikinuma: A Cluster of Volcanic Lakes & Ponds
Mystic lakes and ponds of "Goshikinuma"
In 2016, it was authorized as a one-star tourist resort by Michelin Green Guide Japon.
It is formally called "Goshikinuma Koshogun (a cluster of lakes and ponds of Goshikinuma)." Numerous lakes and ponds, including Bishamonnuma Pond, Akanuma Pond, Midoronuma Pond, Ryunuma Pond, Bentennuma Pond, Rurinuma Pond, Aonuma Pond, and Yanaginuma Pond, are collectively called Goshikinuma Ponds.
The water color mysteriously differs according to ponds: emerald green, cobalt green, turquoise blue, emerald blue, and pastel blue.
The name "Goshikinuma" originates not from five ponds but from a variety of water colors. It is said that differences in color result from the climate, seasons, angle from which they are viewed, volcanic materials contained in the water, etc.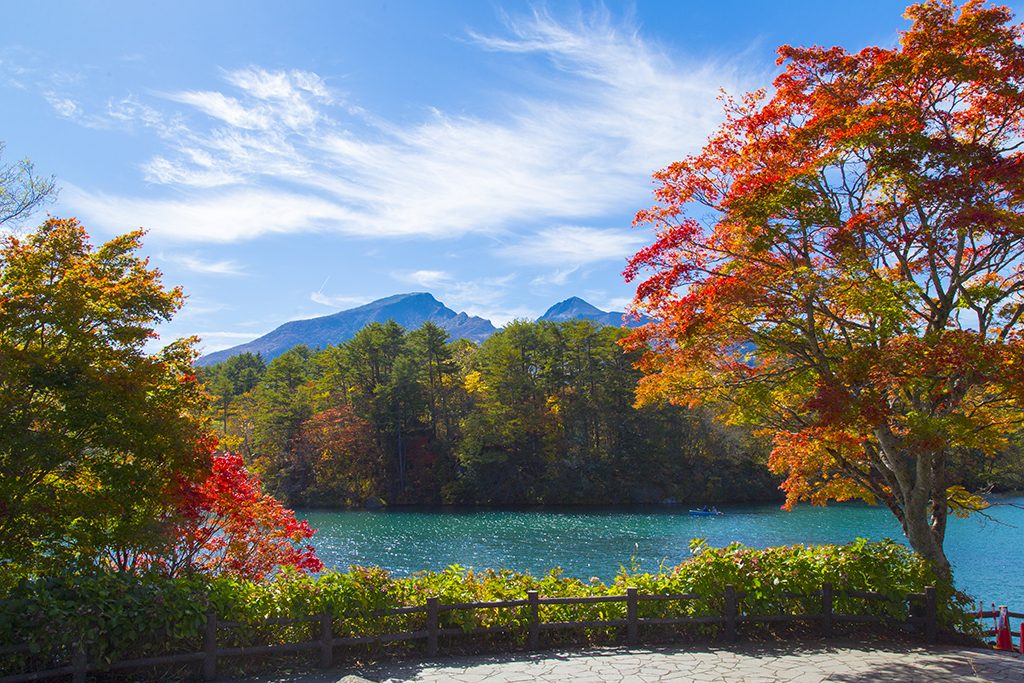 At "Bishamonnuma," the largest pond, you can enjoy rowing a boat.
You can also enjoy bird watching in the forest before budding after the thaw or after the defoliation when birds are easily found.
It is fun to walk around in the snow with snowshoes on although you may think it is not possible to go outside and play during winter season.(*For a walkabout in winter, you are recommended to go out together with an experienced guide with snowshoes on.)
In spring after snow melts away, the colors of these lakes and ponds become breathtakingly beautiful.
Goshikinuma Ponds Nature Trail is approximately 3.6 km in total length. It takes about an hour and ten minutes to about one hour and a half each way. This is a relatively flat hiking course.
The Nature Trail has two entrances, each of which has a parking lot and a route bus stop.
When you drive here, you can park the car in either of the parking lots and enjoy one-way walking before coming back by route bus. (You should check the timetable in advance due to a limited number of buses running a day.)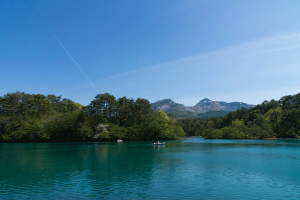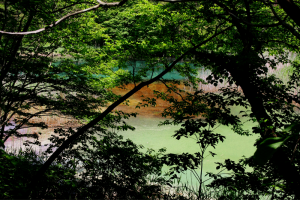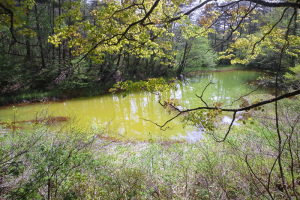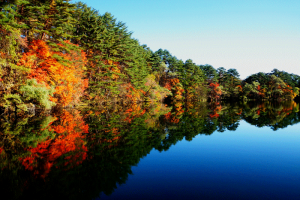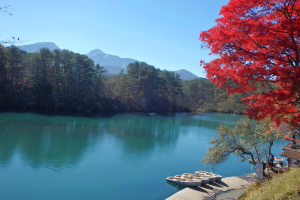 History of Goshikinuma Ponds
In 1888, the north side of the top of Mt. Bandai partially collapsed including Shobandai due to a phreatic explosion. As a result, a debris avalanche blocked rivers, creating hundreds of lakes and ponds in this area.
Dozens of these lakes and ponds are specially called "Goshikinuma Koshogun (a cluster of lakes and ponds of Goshikinuma)."