Aizu Yamajio (salt taken from the mountain in Aizu)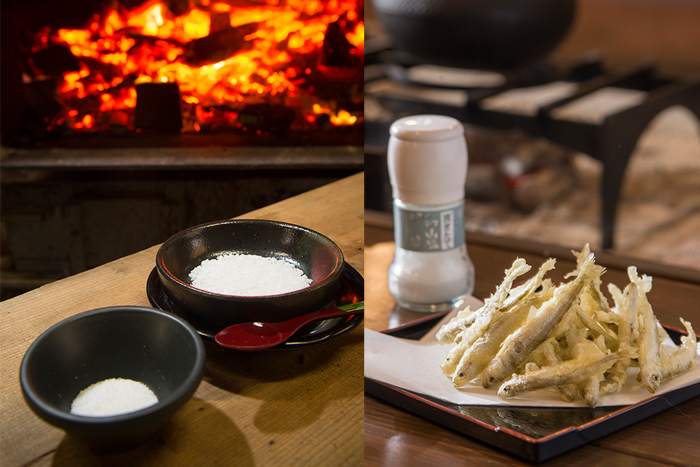 Generally, salt is produced from sea water, but in the mountains of Urabandai, salt-making was carried out by boiling down the hot spring water of Oshio Urabandai.
Legend talks of a hot spring which the Kobo Daishi (priest) opened up, and the concentration of salinity in the spring fountain was 1%. Because its salt concentration is lower than that of seawater, it takes a few days to boil down and concentrate, and this is tremendously time-consuming work.
At one point this traditional salt making process had died out. However, village volunteers came together to revive this legendary salt making process. It is very difficult to visually check for impurities such as calcium and remove with it tweezers. However, Aizu Yamajio contains plenty of mineral ingredients and no impurities. The taste is mellow without bitterness and it has some sweetness. It matches with various dishes very well.
Because it takes time and effort, the annual production volume is just approximately 2 tonnes. Because of its rarity, it is much more expensive than ordinary sea salt. It is a popular souvenir due to this rarity and its mellow taste.
Retail Shops
Michi-no-eki Urabandai (Urabanda roadside station)
Daiichi gold house Meguro
Urabandai sight station
Yamanoeki shokudo restaurant
Kyukamura Urabandai
Urabandai Grandeco Tokyu hotel
Urabandai Kogen hotel
Active resorts Urabandai
Urabandai lake resort hotel
Seven eleven Urabandai store
Aizu Yamajio Ramen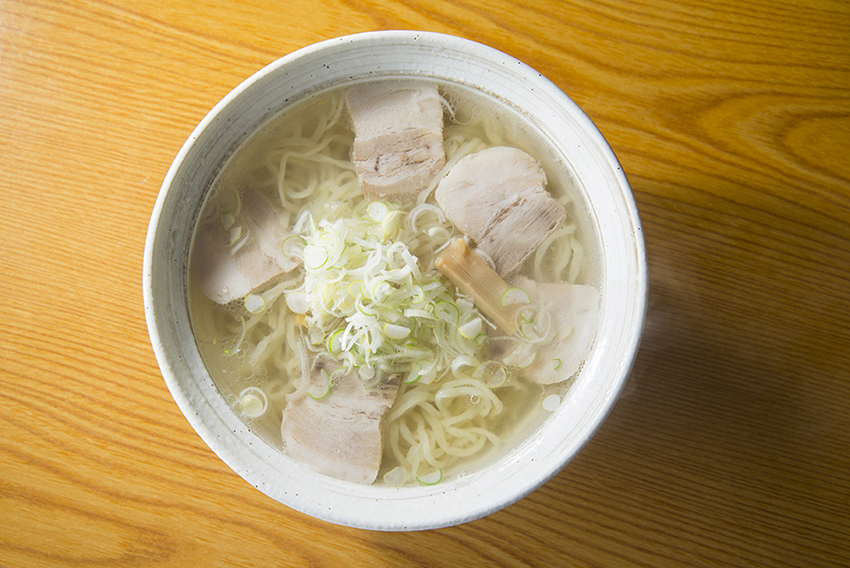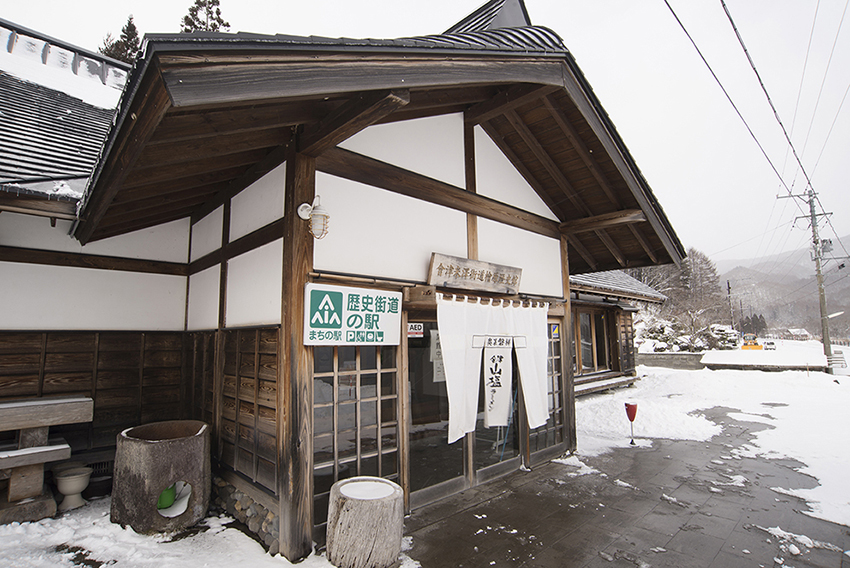 The clear soup shines brightly in the sunlight. Its rich yet simple taste will have you drinking it to the last drop.
■Retail Shops
Oku Urabandai Ramen-ya (Inside Hibara historical museum which is located by the Aizu -Yonezawa Kaido main road.)
Michi-no-eki Urabandai (Urabanda roadside station)
Yamano-eki Shokudo
Daiichi Gold house Meguro
Kitano Chaya
La Vie spa Urabandai
Aizu Yamajio Baumkuchen
This baumkuchen contains Aizu Yamajio and it is a collaboration with the long-established, traditional confectioner, Kanno-ya. The salt is kneaded into the dough until smooth and the outside of the baumkuchen is coated in sugar. Cut a piece of baumkuchen and put it in your mouth. First, the sugar melts gently, next the layers of cake melt, and after that you will taste the light sweetness with just a hint of saltiness in your mouth. Light sweetness with a spongy dough. It is so delicious that you can eat whole piece without realising it. You can buy individually packaged pieces which is convenient as a souvenir.
■Retail Shops
Urabandai lake resort souvenir shop (ground floor) * Non-hotel guests are welcome.
"Gateaux SHIOcolate" (Gateaux chocolate. Shio means "salt" in Japanese.)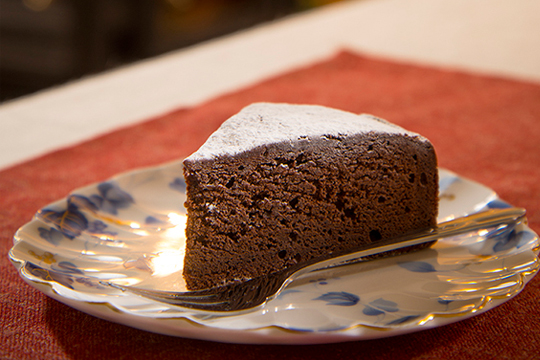 The cake, Gateaux SHIOcolate, uses lots of chocolate. The saltiness of the salt brings out the sweetness of the chocolate. It is very moreish. In Hirono Okashiyasan (Hiro's Confectionery), they sell a sweet called "Gomashiobo" (sesame salt bar) which is baked in a stick shape. You can also enjoy the cafe menu which includes a specialty chicken curry, laranja hot sandwiches, seasonal sweets and affogato. * Cafe menu is served only in the Lakewood Store.
■Retail Shops
Hirono Okashiyasan (Hiro's Confectionery)
Junsai (water shield)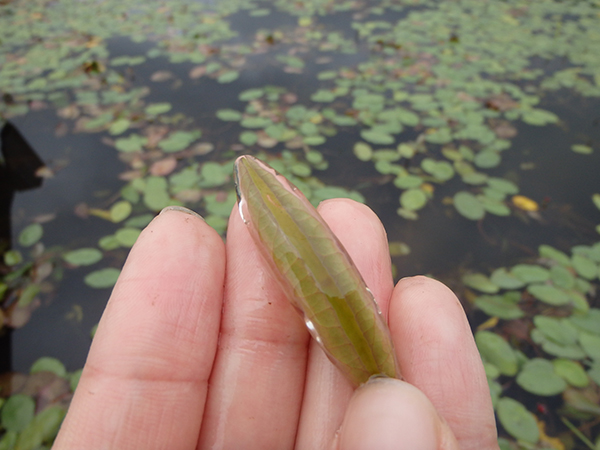 Junsai is a luxury food item with a pleasant, smooth taste. The young buds which are found floating in ponds and swamps are edible. Urabandai's junsai is characterised by the high quality 'sliminess' of the sprout. Scenes depicting junsai picking is a common feature in the summertime. It is sold in bottles as souvenirs. You can enjoy a junsai picking experience in the summer seasons.
■Retail Shops
Daiichi gold house Meguro
Urabandai Grandeco Tokyu hotel
Active resorts Urabandai
Delicious highland vegetables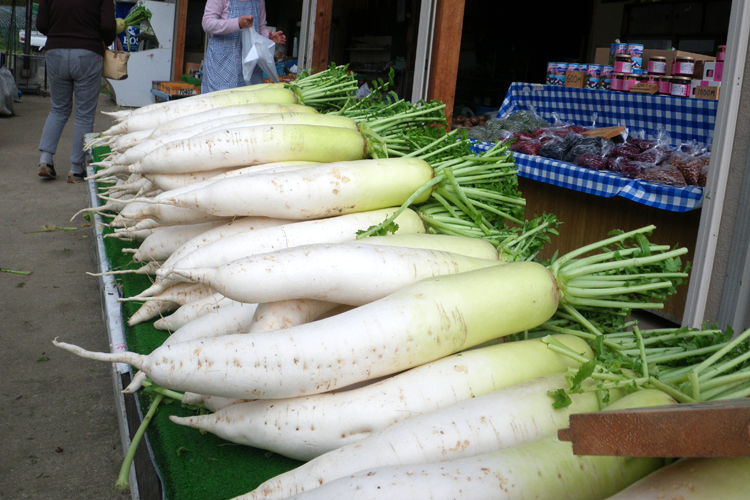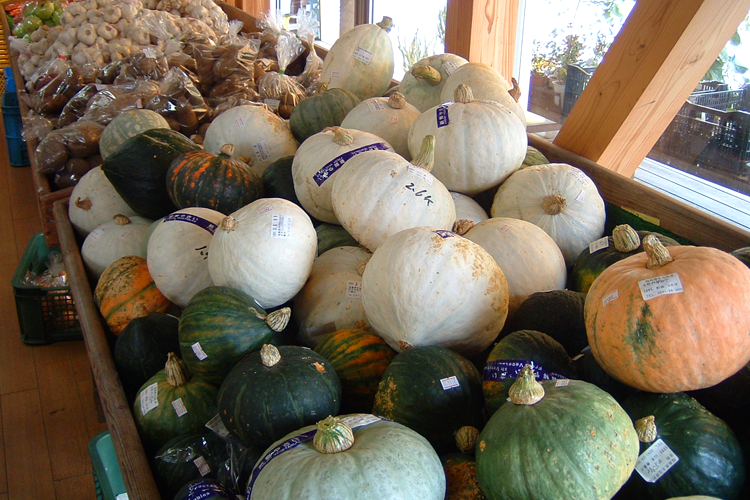 In the Wasezawa district located on the northern coast of Lake Hibara, Wasezawa highland radishes, corn, pumpkin, highland lettuce, and other vegetables are cultivated. The "gold rush" species of corn can be eaten raw when it is fresh, and it is very sweet due to the high sugar content of around 20 percent. (The sugar content is subject to seasonal variation.) In the harvesting season, instant small pop-up markets of highland vegetables line up in the Wasezawa district and many visitors from other prefectures come looking for the vegetables.
Herbs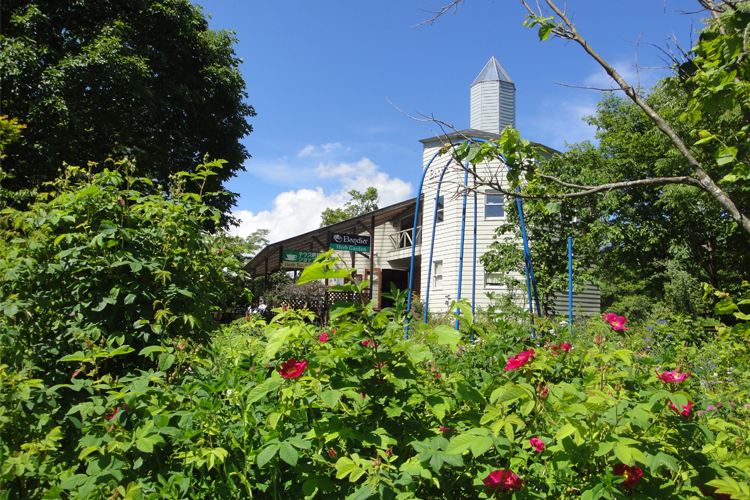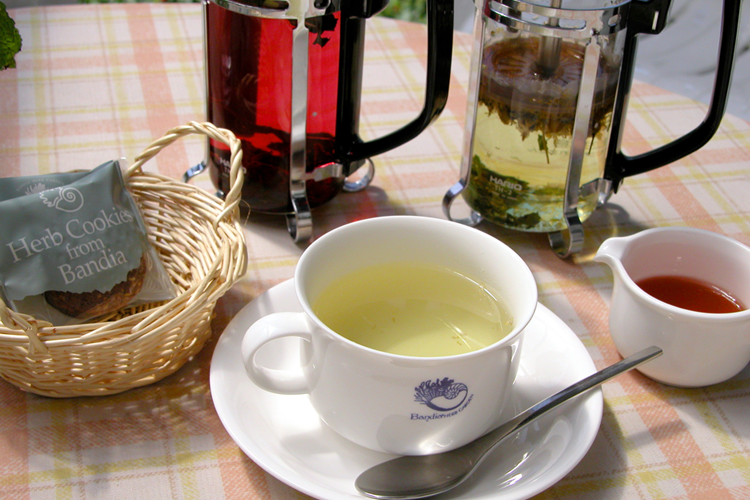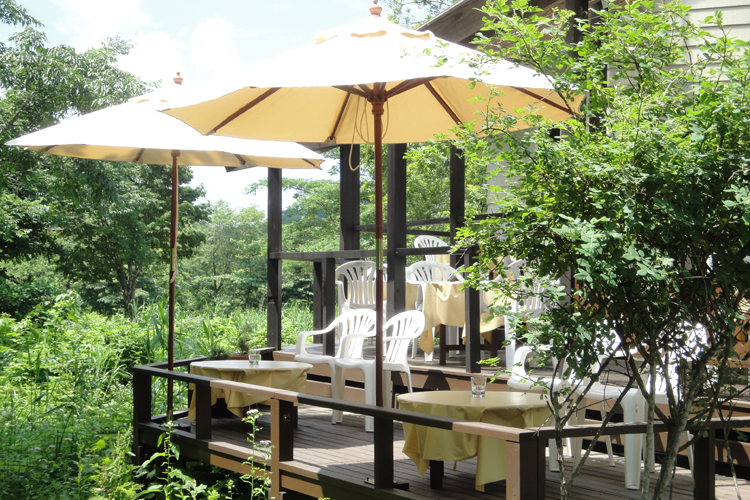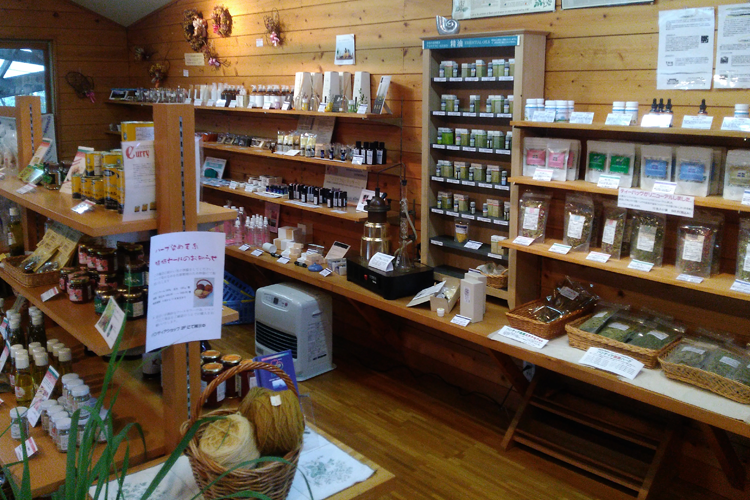 In the vicinity of Lake Sohara there is a herb garden called Herb Space Bandia where various herbs are cultivated. You can buy herbal tea, essential oils, massage oils, soaps, handmade herbal beauty kits, etc here. There is also a terrace where you can eat freshly baked bread and herb sausage sandwiches in the green season.
■Retail Shops
Herb space Bandia