A giant yellow waterfall in the explosion crater of Mount Bandai.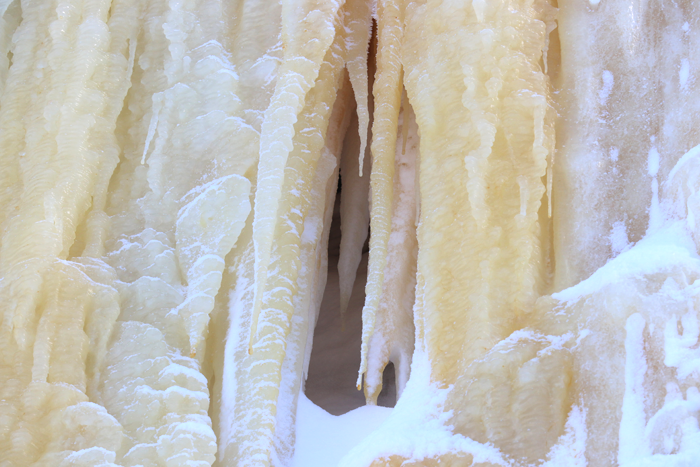 What is It?
It is a gigantic frozen yellow ice waterfall found in the explosion crater of Mount Bandai.
However, there is no waterfall here in summer.
Water leaking from the crater wall freezes little by little in winter, so a large ice "yellow waterfall" is formed. That is why it is called the icefall of illusion. You can see this huge monster only in winter and many tourists come to see it.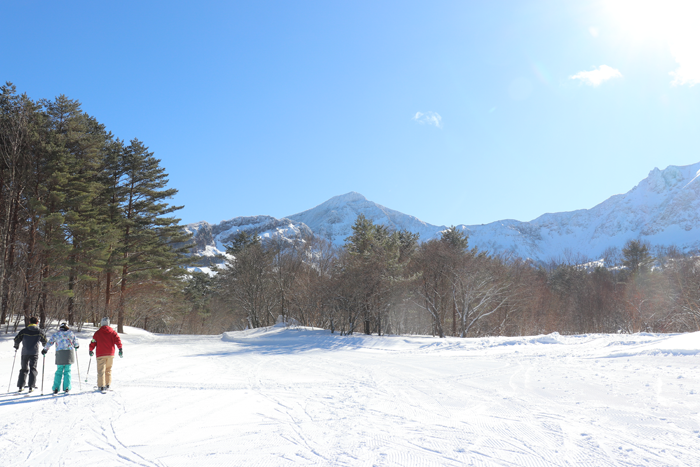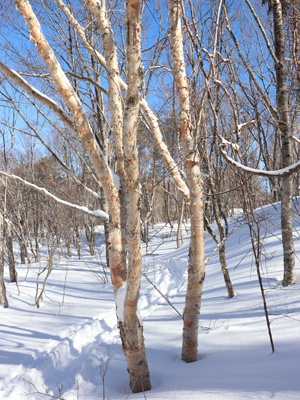 No matter where you stand, you can take postcard-perfect pictures.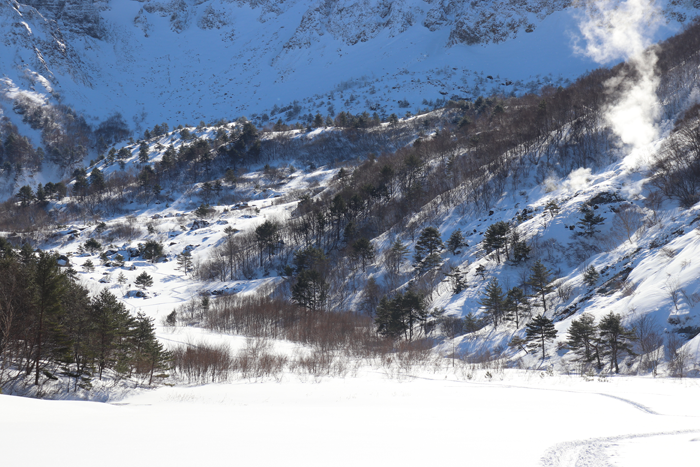 In the vicinity of Akanuma Pond along of the hiking course, you can see volcanic smoke rising. Akanuma Pond became famous because of the Japanese TV program, "Buratamori", causing an increase in the number of tourists during the green season. Akanuma Pond freezes in winter and it is possible to walk on the pond.
Illusion of the waterfall, Yellow Falls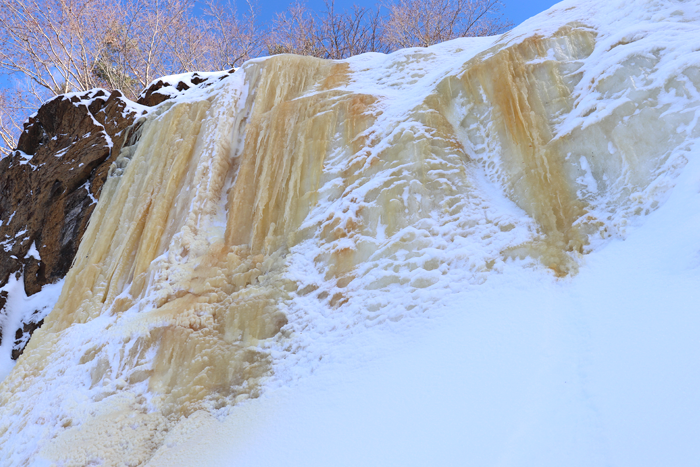 The contrast between blue skies and snow is beautiful on a sunny day. The height of the falls is about 10 metres so it is better to hold your camera vertically rather than horizontally.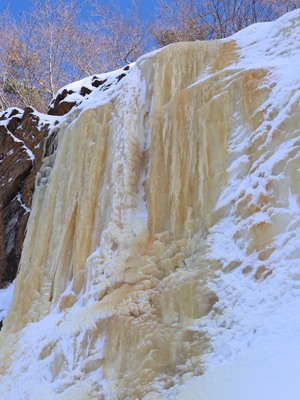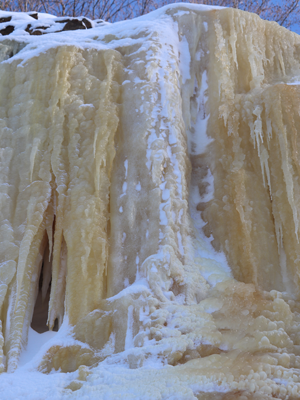 Even then, the falls may still be out of frame.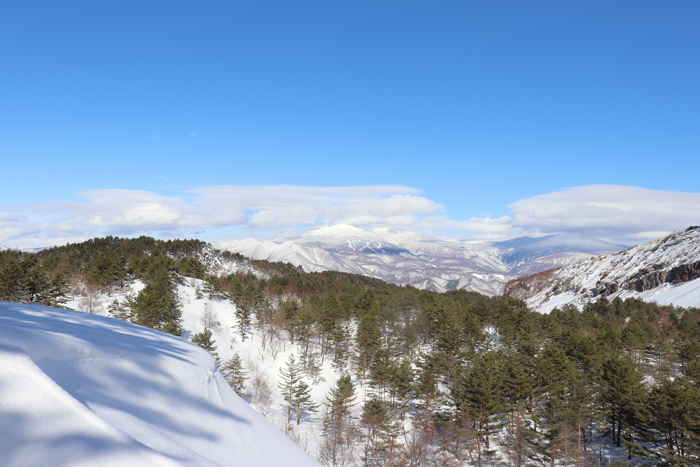 The scenery of the way back is also wonderful.
How do you get to Yellow Falls?
There is a guided tour which includes snowshoe rental.
Snow trekking tours to the Yellow Falls that bring you close to the fumaroles and explosion crater are recommended activities in Urabandai in winter.
* There are several tours. You can take tours which incorporate the ski lifts to go up and/or down (the hiking entrance is at the top of the ski run), or you can take tours where you walk up and down on the ski slopes rather than taking the ski lifts. Please tell the tour guide which tour you would prefer when you book.
*It is dangerous to go solo trekking so please apply for the guided tour. Even if there are trails on the snow they might not be the way to Yellow Falls.
■Address
Nearest facility: Urabandai Ski Resort
1170-5 Oobudairayama, Hibara, Kitashiobara, Fukushima
Recommended Tour Guide Companies
■Mokumoku Nature School
They are a school with more than 15 guides who have extensive knowledge of Urabandai. Extensive support from nature observation to outdoor sports.
Tel. 0241-23-9018

A nature school that carries out an ecotour program in the Urabandai and Inawashiro areas. It is good for pre-school children wanting to discover river play, canoeing on Lake Inawashiro, and eco tours to form a new perspective. Have a relaxing quality time and experience.
Tel. 0241-32-3477

With the concept of an "outdoor sports club" in the Urabandai highlands, we provide mainly canoe touring in Lake Hibara and snowshoe trekking. We also provide bass fishing and ice fishing activities.
Tel. 0241-32-3039
The place you should go after your mysterious winter experiences should be…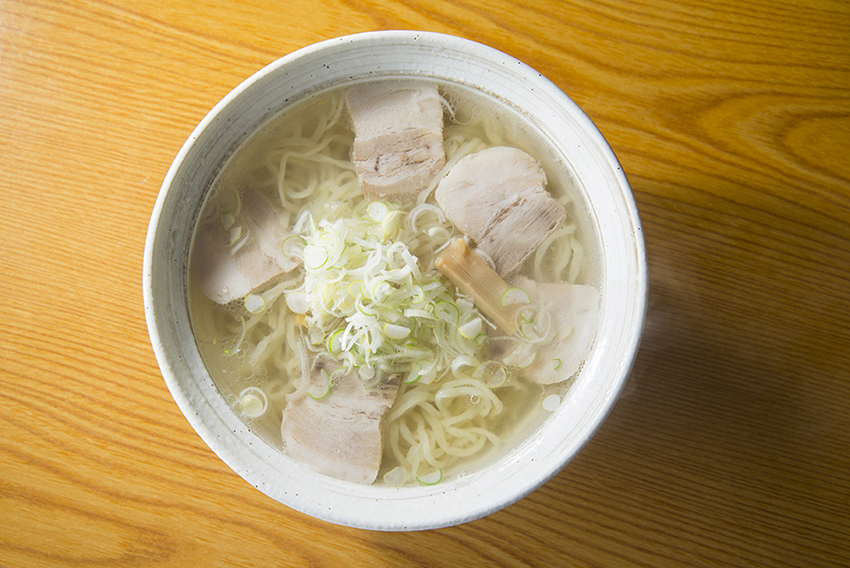 How about eating Aizu Yama-jio Ramen?
The soup is so clear that it shimmers in the light of day, and the rich, clear taste will have you finishing it to the last drop. The existence of Yama-jio (salt from the mountain) is a mystery.
Recommended Restaurants
Oku Urabandai Ramen-ya
(Inside Hibara Historical Museum which is located by the Aizu -Yonezawa Kaido main road, )
Michi-no-eki Urabandai (Urabanda Roadside Station)
Yamano-eki Shokudo
Daiichi Gold House Meguro
Kitano Chaya
La Vie Spa Urabandai