3000 Ooyama cherry blossoms bloom.
In Urabandai, spring comes late. On the Sakuraga Ridge, as many as 3000 Ooyama cherry blossoms bloom around the Golden Week holidays (late April to early May).
To celebrate the birth of Aiko (Princess Toshi) in 2001, the following year, 2001 Oyama cherry blossoms were planted in her honour. After that, additional trees were planted to commemorate exchanges between Suginami Ward in Tokyo and New Zealand. The trees now number about 3,000.
By comparison, Tokyo's Chidorigafuchi Moat on the western side of the Imperial Palace has about 260 trees, and along Meguro River in Tokyo there are about 800 trees.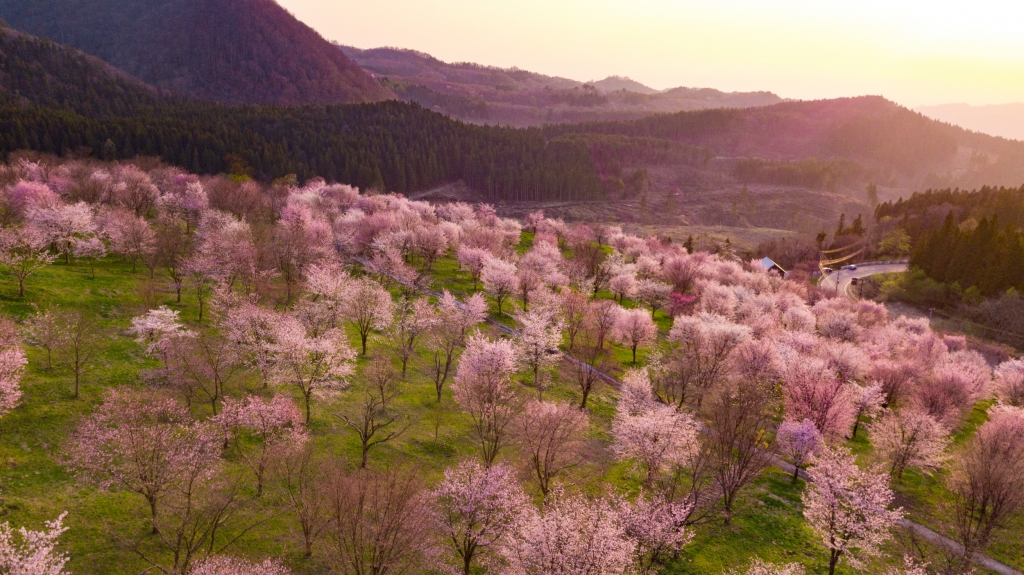 After overcoming the harsh winter, hardy Oyama cherry blossoms grow vigourously, and Sakura Ridge's popularity as a place to view cherry blossoms increases each year. Oyama cherry blossoms are a much darker pink than Someiyoshino cherry blossoms which bloom in the city. Flowering time is characterised by leaves growing together with flowers from late April to early May.
■Best time to see it: from late April to early May
The light pink of the cherry blossoms fill your entire view.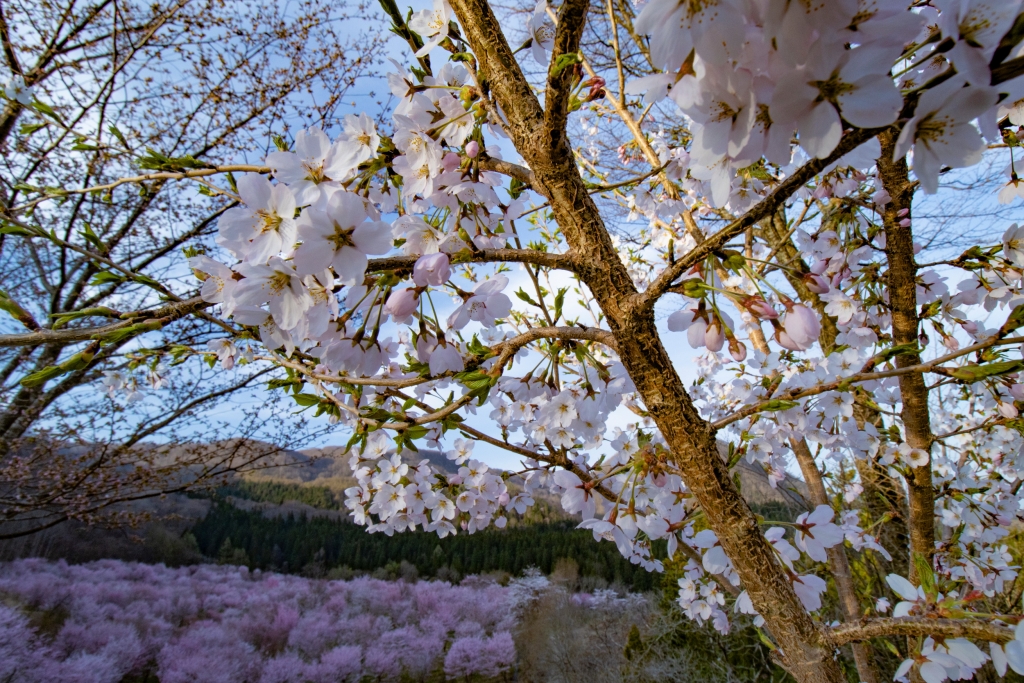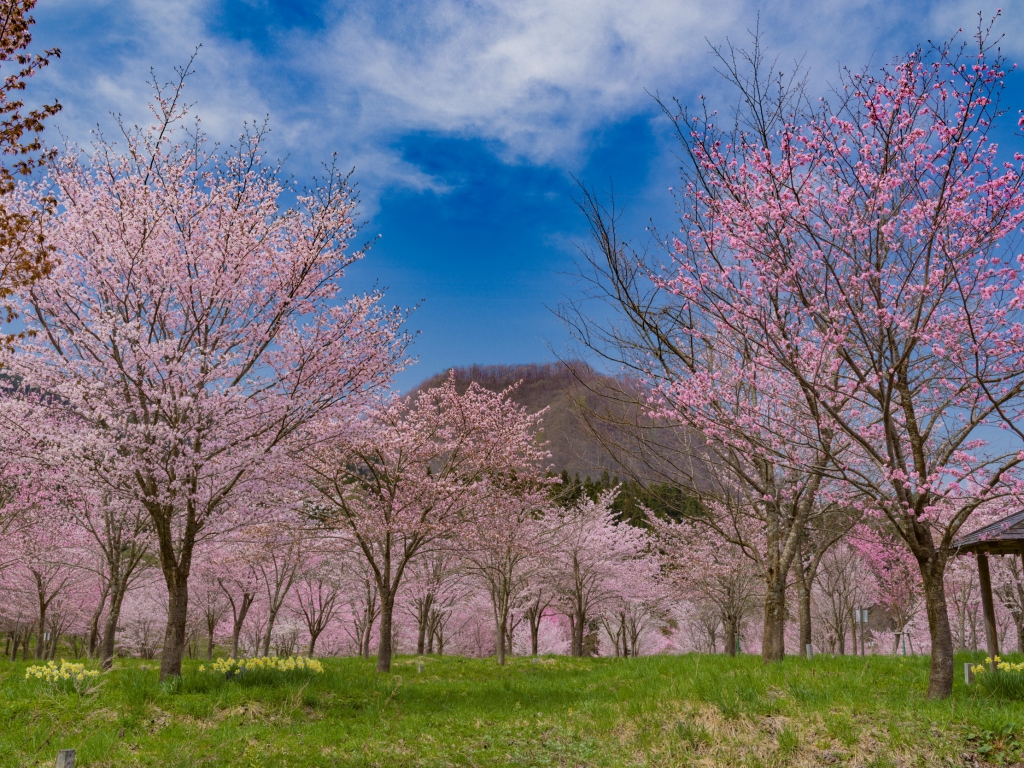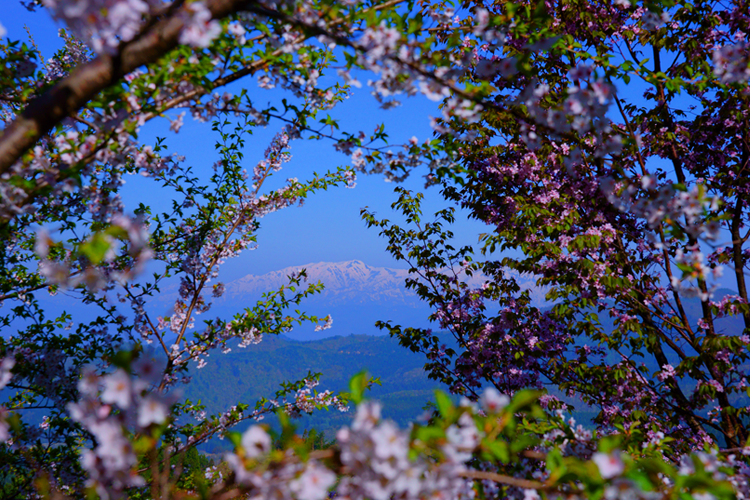 (Kitashiobara Village Sakura Photo Contest 2015 winning works)
Sakura Ridge is close to the daytime hot-spring facility, "La Vie Spa Urabandai." Although cherry blossoms can already be seen from national road Route 459, please be sure to park your car in the parking lot and walk to the cherry blossom area.
When walking all the way to the cherry blossom forest, there are rows of cherry blossoms as far as you can see under the hill. You can appreciate the scale of the 3000 cherry blossom trees.
Sakura Ridge is a spectacular cherry-blossom viewing spot where you can see the dark shades and the mountain ranges of the Mt Iide. The Sakura Festival is held every year around the Golden Week holidays (end of April to early May).
Click here for "popular cherry blossom viewing spots" that can be reached by car from Urabandai.
Here are other sightseeing spots.
Access
■By car:
Set the destination as "La Vie Spa Urabandai" in your car's navigation system.
Take the Tohoku Expressway to Koriyama Junction, then switch to the Ban-etsu Expressway in the direction of Aizu Wakamatsu. Take the Inawashiro Bandaikogen exit (20 mins from the junction) to national road Route 115 in the direction of Fukushima, prefecture road Route 2 and then to national road Route 459 (approx. 45 mins from the expressway exit).
■Public transport:
Take the JR Tohoku Shinkansen (bullet train) to Koriyama Station and change to the JR Ban-Etsu west line and get off at Inawashiro Station. From there it is approximately 60 minutes by Bandai Toto local bus from Inawashiro Station to the bus stop for "La Vie Spa Urabandai".
Inquiries about "Sakura Ridge Sakura Festival"
Sakura Ridge Sakura Festival event page
Kitashiobara Village Commerce and Industry Tourism Division
TEL:0241-32-2511