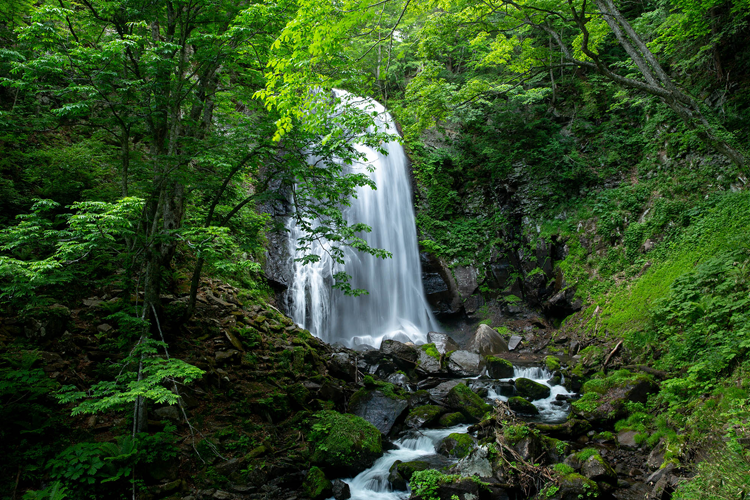 A course leading to the large waterfall that has a falling height of 25 metres.
There are steep stone stairs with about 140 steps in the middle of the course, and when you reach the top you will see a small road that trucks used for wood transportation. As you pass through the forest, you will see the outstanding Onogawa Fudotaki Waterfall. In the summer you can feel the refreshing power of the waterfall and in winter you can see it in its frozen blue state (blue ice).
It is especially powerful from late April to early May every year due to thawing snow.
In the forest surrounding the trail, there are a lot of mizunara (Mongolian oak), tochi (Japanese horse chestnut), and shinanoki (Japanese linden) and it is also a habitat for wild birds such as ooruri (blue-and-white flycatcher) and koruri (Siberian blue robin).
* For winter explorations, please go with on a guided snowshoe tour.
Total length of the course: about 1 km
Duration: approximately 30 minutes
Height difference: 70 m
Difficulty: Beginner
■Access
By car:
Park your car at Onogawa Fudotaki parking lot
Other transportation:
There is no bus stop around the course, so please take a taxi.
Click here for the list of nature trails and trekking courses.