Mysterious ponds in a white forest
The Goshikinuma Ponds in the snow are mysterious.
The winter scenery is completely different to that of the green season. You can observe the ponds which appear in this white world whilst snowshoeing.
>Today's Bisyamonnnuma Pond(Urabandai Visitor center)
>Click here for more information about Goshikinuma Ponds.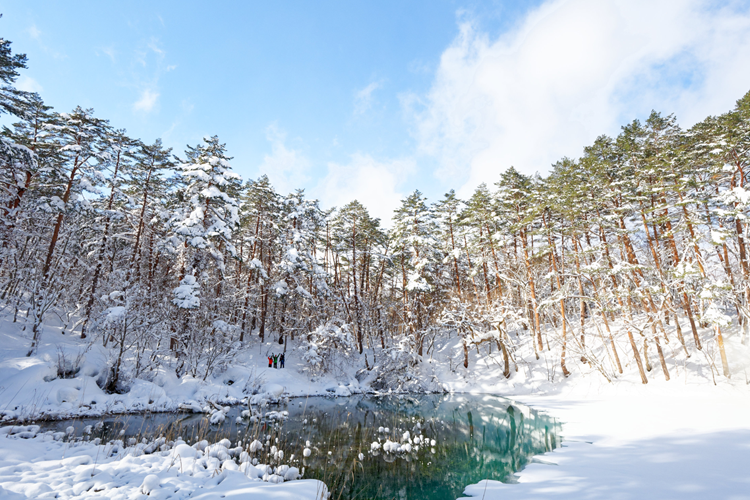 The colours of the Goshikinuma Ponds vary a lot depending on the season and weather, but in winter the colours darken and deepen.
The colours shine against the snow and pale blue sky.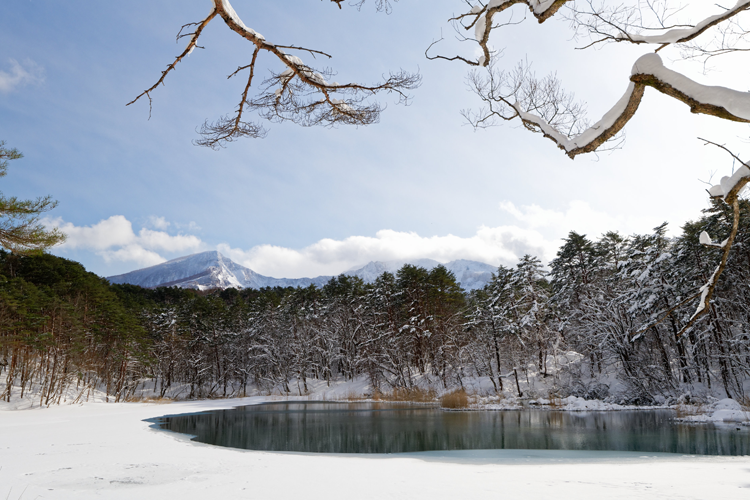 This is Tatsunuma Pond.
This "illusion of Goshikinuma" can only be seen in winter.
Goshikinuma Walking Trail is about 3.6 km in length, and usually you can walk to the edge of Yanaginuna and Bishamonnuma Ponds without leaving the trail.
In winter, you will be able to walk outside the trail because the snow is piled up, and you can reach this swamp.
How to walk Goshikinuma in winter
Around the Goshikinuma Ponds there are no signs above the snow in winter, making it difficult to navigate. However, there are guided tours available in winter.
Please enjoy snowshoe hiking.
*For Goshikinuma Ponds snowshoe touring, there are several tours that will go up to the Tatsunuma Pond or you can just walk to other beautiful ponds. Please ask the guide of the tour party when making your reservation.
*Solo trekking is dangerous so please apply for a guided tour. Even if there are trails on the snow, they might not be the way to the Goshikinuma Ponds.
Recommended Tour Guide Companies
Mokumoku Nature School
They are a school with more than 15 guides who have extensive knowledge of Urabandai. Extensive support from nature observation to outdoor sports.
Tel. 0241-23-9018

Free snowshoe rental! You only need to bring yourself as they provide new model snowshoes.
Tel. 090-7798-1184

Please make a request for the "Goshikinuma tour" when you book.
In addition to regular courses, you can consult with the guide on a plan more suitable to your needs. Please make this request in advance.
Tel. 0241-32-3039