Mysterious lake "Goshikinuma"
Goshikinuma Ponds has a 1-Star rating in the Michelin Green Guide of 2016.
The Goshikinuma Pond group is a generic term for numerous lakes and ponds which include Bishamonnuma, Akanuma, Midoronuma, Tatsunuma, Bentennuma, Rurinuma, Aonuma and Yanaginuma.
It is said that the "mysterious lake" is a mysterious place where the colours of emerald green, cobalt blue, turquoise blue, emerald blue, and pastel blue differ depending on the swamp. Aonuma in particular has such a beautiful colour that it cannot be thought of as something created by nature.
The name, Goshikinuma, as written in Japanese (五色沼 or five colour ponds), is rather a misnomer. The area consists of many more than five ponds, and is also famous for displaying a much larger spectrum of spectacular colours. Factors such weather, season, angle of view, volcanic substances contained in the water, etc can affect the colours that you see. For this reason, we recommend that you visit again at different times of the year.
You can enjoy rowboats (冬季休業) in the biggest pond, Bishamonnuma.
Birds are best observed after the winter thaw but before new sprouting, as well as after the falling of the leaves.
You can still enjoy the area when it snows if you have snowshoes.
(*When walking in winter, please go with an experienced guide on a snowshoe tour)
In spring after the snow melts, the colours of the lakes are particularly beautiful.
Goshikinuma Pond trail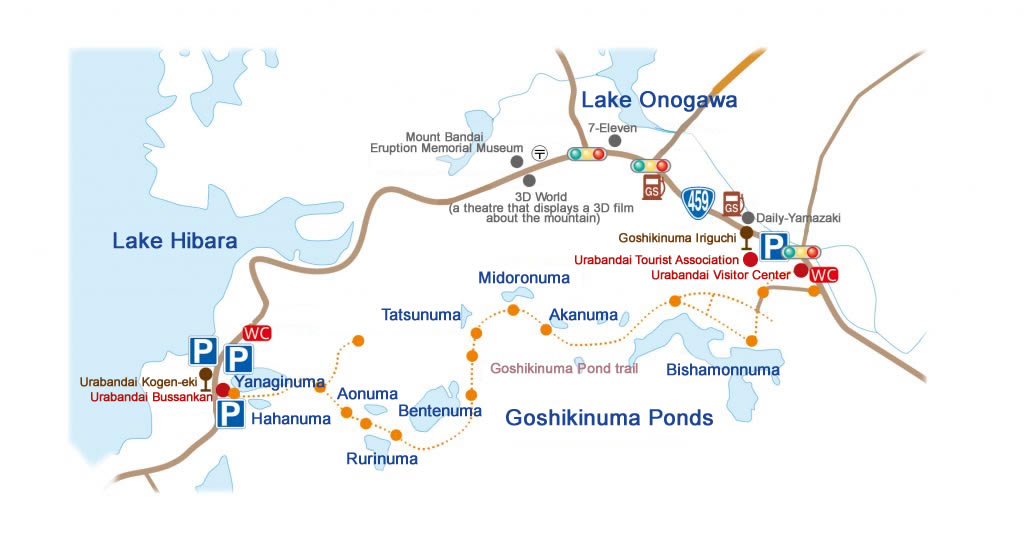 五色沼湖沼群を巡るハイキングコース。比較的平坦な道のり。
■Overall length: About 4 km
■Duration: Approximately 1 hour and 10 minutes ~ 1 hour and 30 minutes (one way)
■Difficulty: Beginner
There are two entrances to the trail, each with a parking lot and a bus stop.
When coming by car, you can park at one parking lot, walk one way along the trail, and return to your car by bus.
⇒バス時刻表はこちら
Although it is a course with few ups and downs, caution is still necessary as rocks can be slippery and it can get muddy in rainy weather.
This area is designated as a "special protected area" in the national park (especially in areas that strictly protect the landscape), and any collection of animals and plants is prohibited. In order to help protect vegetation, please keep to established trails.
初めての方にはトレッキングガイドの利用がおすすめです。
⇒Trekking Guided Tour List
The formation of Goshikinuma.
In 1888, the summit of Mount Bandai on the northern side collapsed due to a steam explosion. The subsequent rock avalanche blocked the river and this led to the formation of lakes in this area. There are dozens of lakes, among them Goshikinuma lake group.
Access


There are two entrances to the trail, each with a parking lot and a bus stop.
■Goshinuma entrance(Bishamonnuma Pond side)
By Car: Use the Urabandai Visitor Center, or Goshikinuma Entrance Tourist Plaza (Urabandai Tourist Association) parking lot. It is about 5 minutes on foot to Bishamonnuma. There is also a large bus parking area there.
By Bus: Get off at "Goshikinuma Iriguchi" bus stop.
■Urabandai Kogen-eki entrance(Yanaginuma Pond, Aonuma Pond and Rurinuma Pond side)
By Car: Use the Urabandai Bussankan parking lot. Yanaginuma Pond is in front of the parking lot. There is also a large bus parking area there.
By Bus: Get off at "Urabandai Kogen-eki" bus stop.