Goshikinuma area
Active Resorts Urabandai (formerly Urabandai Royal Hotel)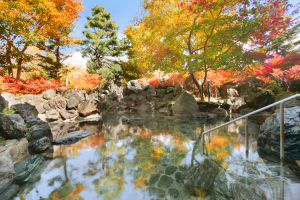 Spring quality: Sodium, calcium sulphate chloride spring
Indications: Neuralgia, muscular pain, arthralgia, stiff shoulders, motor paralysis, bruising, sprainss, chronic digestive diseases, haemorrhoids and cold constitutionss.
Opening hours: 1 pm – 8 pm
* Sometimes open from 3 pm, last admission is at 7 pm
http://www.daiwaresort.jp/urabandai/hotsprings/index.html#a4
Tel. 0241-32-3111
Urabandai Hot Spring Centre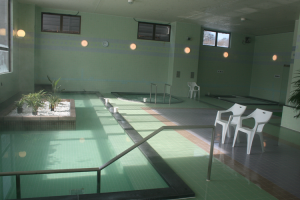 Spring quality: Sodium, calcium chloride hot spring
Indications: Burns, peripheral nerve disorders, cold constitutionss, depression, skin dryness, stiffness in the joints, decreased stomach and intestinal function, mild hypertension, haemorrhoids, autonomic ataxia, convalescence, fatigue relief and for the general promotion of health.

Opening hours: 10am – 8pm
http://www.u-onsen.com/
Tel. 0241-23-7200
Search by area
You can enjoy a day bathing at hotels, inns, pensions, hot spring facilities, etc. (21 in total)
Urabandai Kogeneki Area
Goshikinuma entrance area
Lake Onogawa and Kengamine area
Lake Sohara area
Wasezawa and Hibara area
Hosono and Urabandai Oshio Onsen area